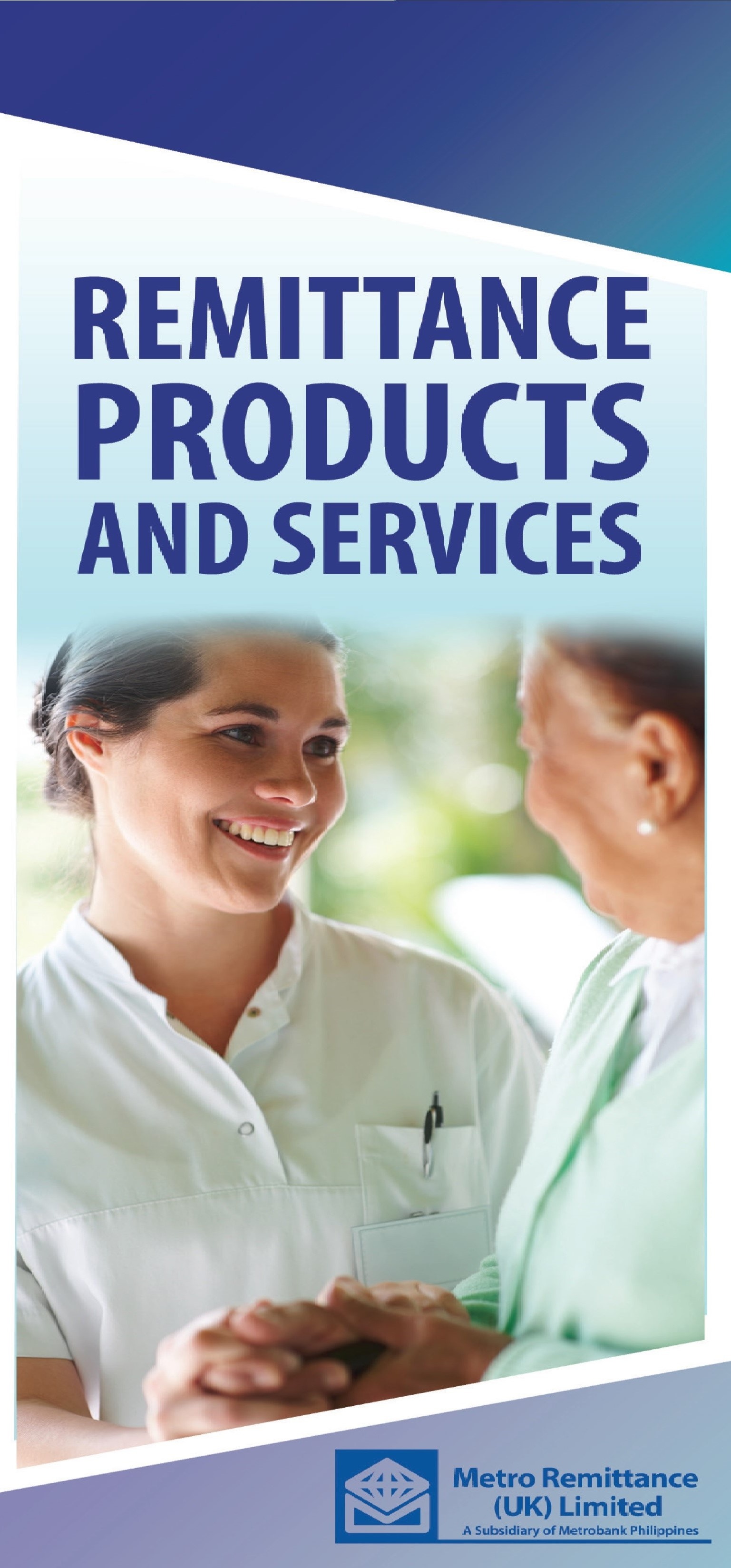 1. Remit over the counter at our office in High Street Kensington London by cash or debit card payments.
2. Transfer funds to any of Metro Remittance (UK) Ltd bank accounts through telephone banking, internet banking, mobile banking, CHAPS, BACS, or other electronic banking means through your bank branch. Advise us immediately your remittance instructions via phone call, email or text message to enable us to process your remittance.
3. Remit via MetroRemit UK App available for download from any Apple or Android Phone or visit our secure website https://www.metroremit.com.
For assistance, please contact us at 02073684490.

We offer fast, secure, and affordable remittance services to the Philippines: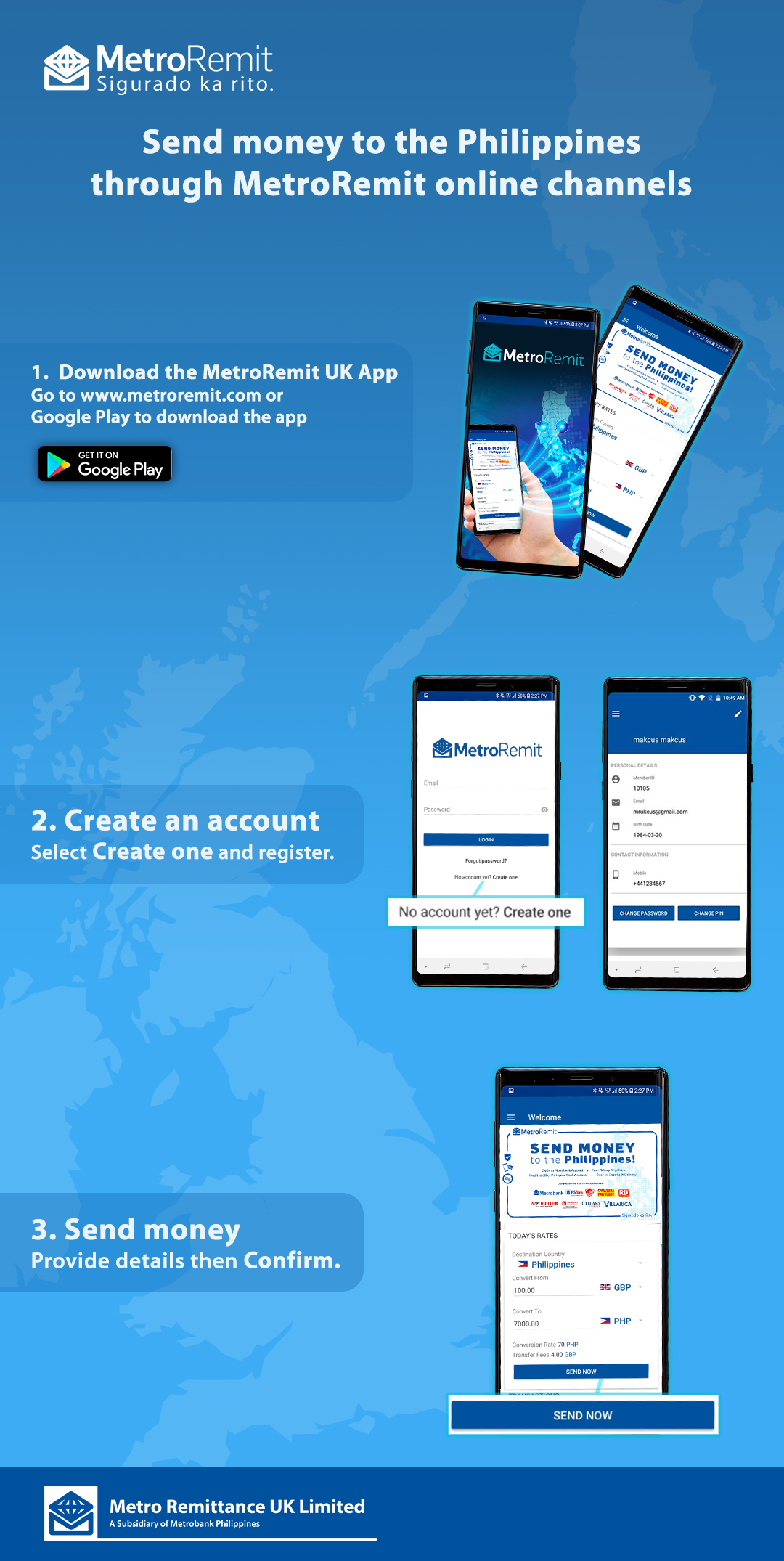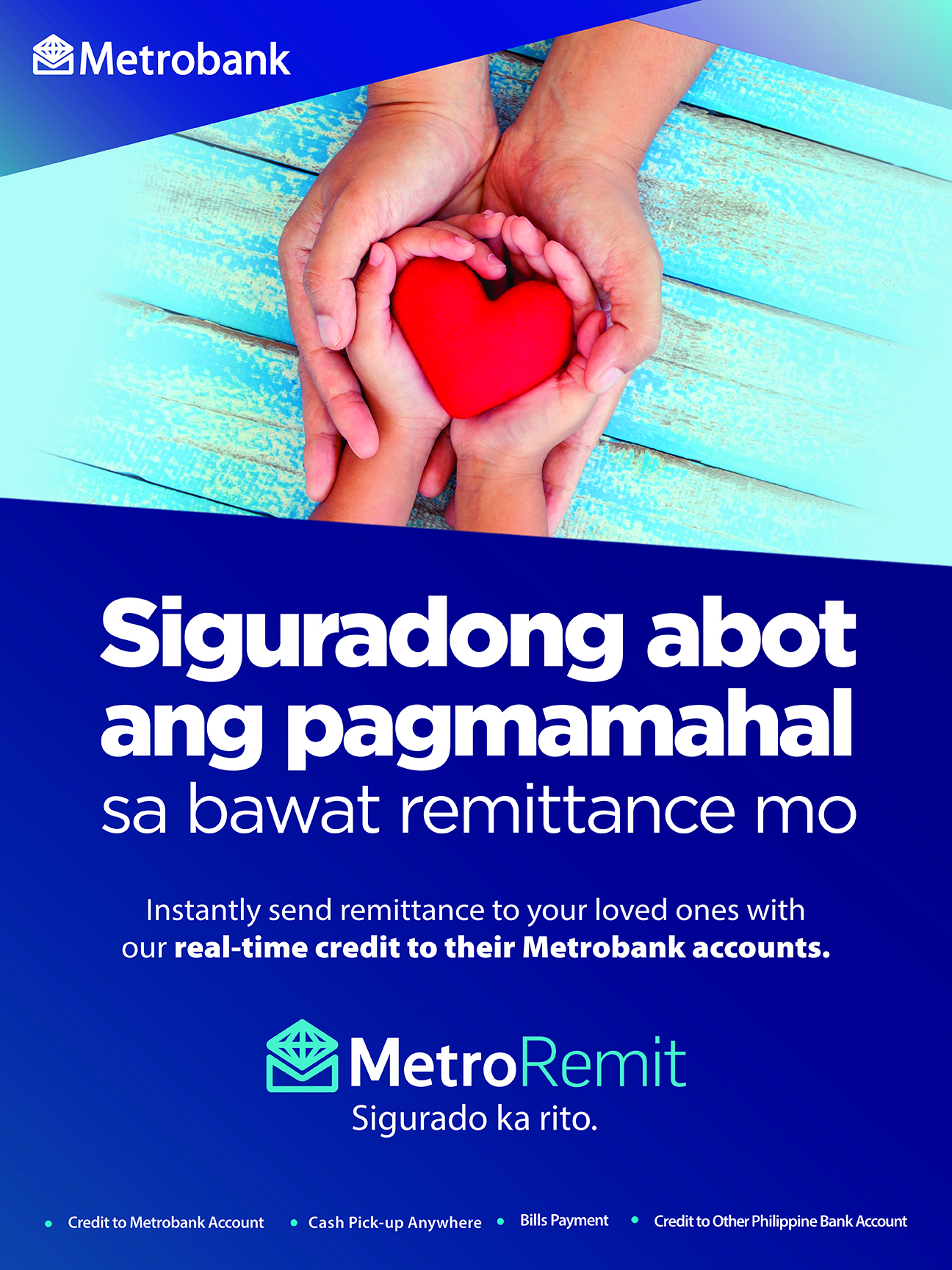 + Online, real time credit to Metrobank Accounts
+ Collection of Philippine peso or US dollar funds at any Metrobank branches nationwide and other accredited agents
+ Delivery of peso funds (subject to limits) to beneficiaries registered address (currently on-hold due to pandemic COVID-19)
+ Credit of Philippine peso or US dollar funds to other Philippine bank accounts
+ Payments to Social Security Services (SSS), Pagibig and Philhealth accounts
+ Payments to various billers account such as Federal Land, Robinsons Homes, Filinvest, Century Properties, Sta Lucia Land Inc., SMDC, Horizon Land, Loyola, Pioneer, etc.
Here are various ways of sending money to the Philippines:

CREDIT TO METROBANK:

It is the fastest, safest and most convenient way to send your remittance. Real time and fully automated credit to account.

FREE OFW PESO SAVINGS ACCOUNT for your BENEFICIARY:

You may request us to open your beneficiary a Metrobank OFW Peso Savings Account (ATM) to any Metrobank branch near them in the Philippines. You only need to give us the following information:
Complete name:
Philippine Address:
Contact Number:
It is a zero maintaing balance account subject to terms and conditions and subject to presentation of valid IDs at the Metrobank branch, inquire at our office hotline for more information.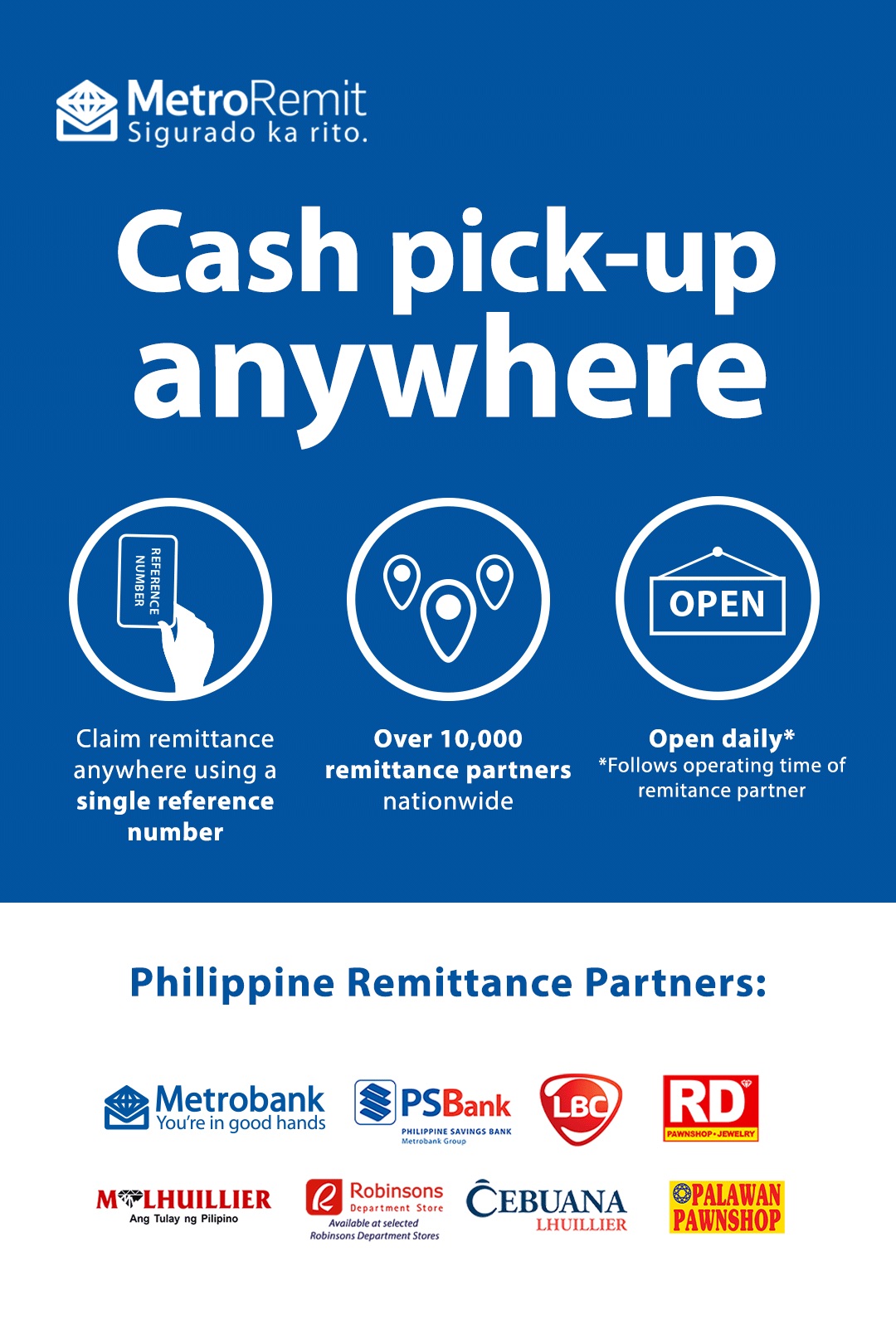 CASH PICK UP ANYWHERE

Your beneficiary can claim remittance to more than 10,000 payout outlets in the Philippines. It has automatic free text alert for your beneficiary as confirmation that remittance is ready for pick up. Even with no Metrobank account, your beneficiary can claim remittance to any Metrobank branch nearest in the area.
Note: Claiming of remittance is subject to presentation of proof of identity and location.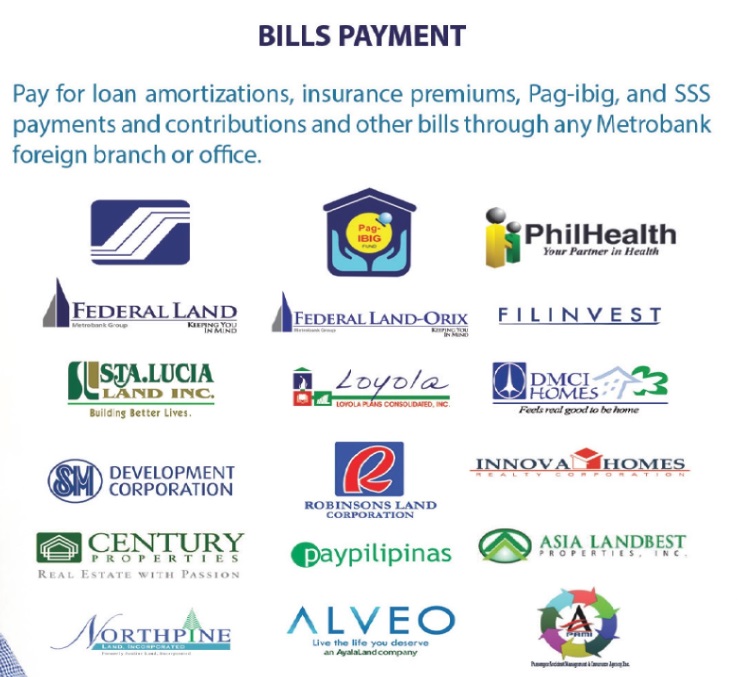 BILLS PAYMENT

Pay for loan amortizations, insurance premiums, PAGIBIG, SSS payments and contributions and other bills through Metro Remit.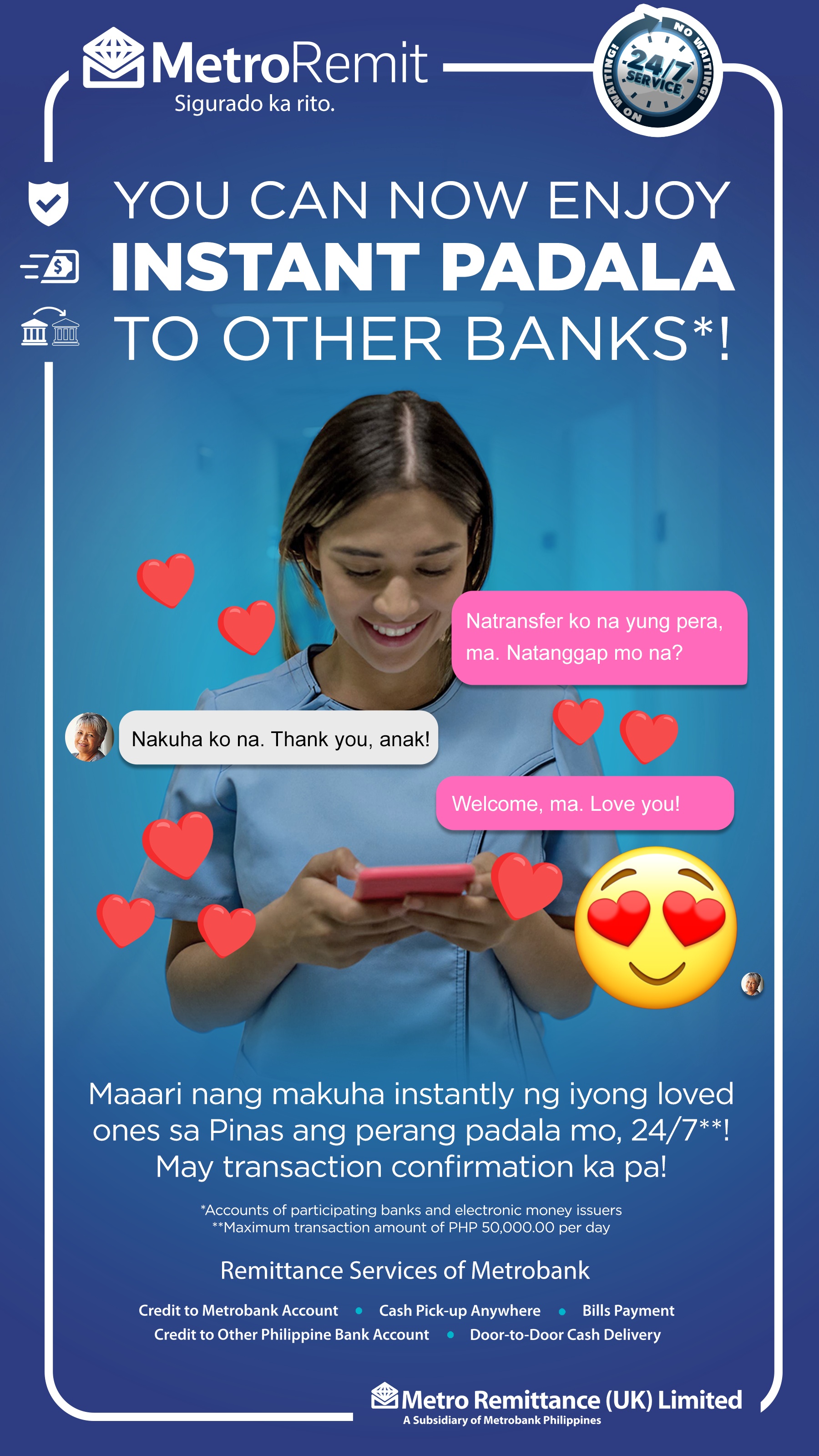 CREDIT TO OTHER PHILIPPINE BANKS via INSTAPAY

With MetroRemit's "instant padala", your beneficiary can now received your remittance in a few minutes avaialble to other banks.
***applies only for transaction below Php50,000.
CREDIT TO OTHER PHILIPPINE BANKS via PESONET

***applies only for transaction above Php50,000.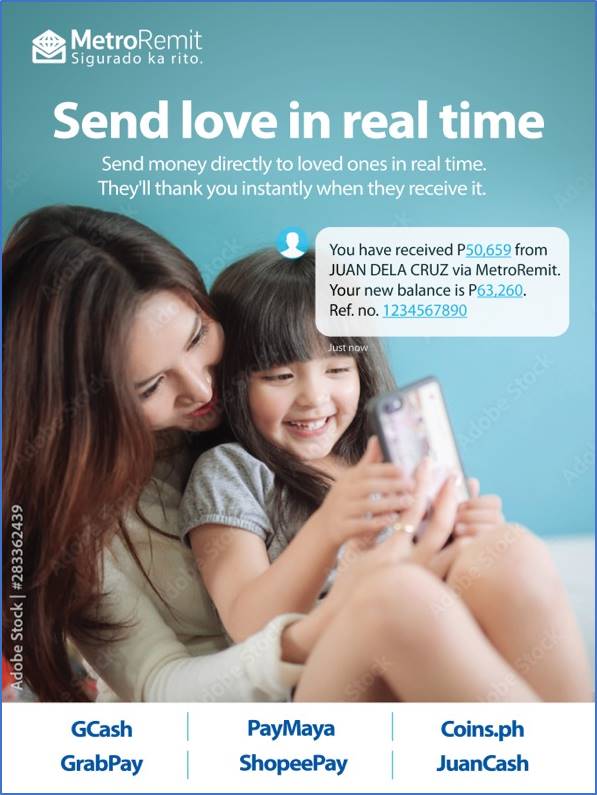 Take care of your family's needs anytime with MetroRemit. ​
You can send money directly to their e-wallets (G-Cash, Paymaya, etc) so they can receive your remittance in real time.​
Sending love back home has never been this easy.